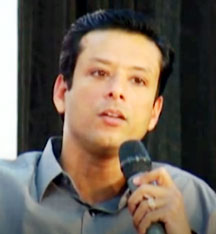 Dhaka, 06 January, Abnews : Prime Minister's son Sajeeb Wazed Joy thinks the government was able to resist violence in 'almost all places' on the day of polling. In a Facebook status Joy wrote on Sunday night, The BNP-Jamaat continued their attacks. They set some polling stations on fire and burnt innocent people; beat a election official to death and smashed the other's hand. They attacked and stabbed Awami League activists and voters.
Fortunately, the government has been able to resist violence in almost all the places. He continued, Only 160 out of 18,000 polling centres were attacked which is around 0.8 percent. Around 10,000 local observers, some South Asian observers, about 20 television channels and many newspapers have watched the elections. There was no report of irregularities.
Joy said voters panicked and so the turnout was low in the beginning. He said the turnout would have exceeded 50 percent if the BNP-Jamaat did not resort to violence. I would like to thank those voters who came out of their houses and voted. You have taken a position against violence and militancy to endorse democracy.
Joy also thanked the Awami League leaders and activists. It was their struggle against violence. The national election was held on Sunday with BNP-led 18-Party opposition alliance boycotting it. They also enforced shutdown and blockade to thwart the polls. Many polling stations and election officials were attacked by the strikers on the day of polling.
Abn/Mon-02/Politics/Desk/Nazmul Houda/Mustafiz/Fatama
রিপোর্ট শেয়ার করুন »