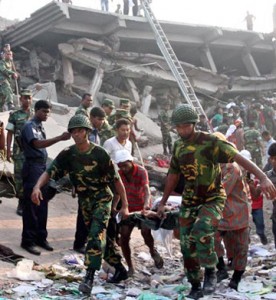 Dhaka, 30 May, Abnews : Prime Minister Sheikh Hasina today said her government has made necessary arrangement for better treatment of the injured garment workers of Savar building collapse along with providing financial assistance to the family members of dead and wounded workers. She said this after distributing cheques for financial assistance from her Relief and Welfare Fund among the family members of 125 victims of Rana Plaza collapse in the third phase at her office here this morning. She said, as per the suggestions of the physicians, some of the seriously wounded workers would be sent abroad including Thailand and Singapore for better treatment.
The Prime Minister said arrangements have already been made to meet the cost of treatment of the injured at various hospitals in the country. She asked the BGMEA leaders to take necessary measures to provide financial assistance to the family members of the victims from their organization. BGMEA President Atiqul Islam informed the Prime Minister that they had already paid Taka 6 crore as one month salary of the workers of Rana Plaza garment factories and provided the treatment cost of the wounded.
In some cases, the cheques were distributed among more than one members of a family as per the directives of the Prime Minister to ensure that all the deserving members of a victim's family are benefited. Later, different organizations including the Industries Ministry, Communications Ministry, Cabinet Division and financial institutions and individuals handed over cheques for financial assistance to the Relief and Welfare Fund of the Prime Minister for Savar victims.
Prime Minister Sheikh Hasina received the cheques for donation from Industries Minister Dilip Barua, Cabinet Secretary M Musharraf Hossain Bhuiyan, Bangladesh Bank Governor Dr Atiur Rahman, Road Division Secretary M A N Siddique and the representatives of various organizations. PM's Adviser HT Imam, Principal Secretary Shaikh Md Wahid-Uz-Zaman and Press Secretary Abul Kalam Azad, among others, were present on the occasion.
Earlier, Madhumati Bank Limited handed over 100 wheelchairs to the Prime Minister for the victims of Rana Plaza in Savar. The Prime Minister in the first and second phases provided financial assistance to 221 families of the Savar tragedy victims from her Relief and Welfare Fund.
Abn/Thu-01/Economics/Desk/Jasim/Mustafiz/Fatama
রিপোর্ট শেয়ার করুন »