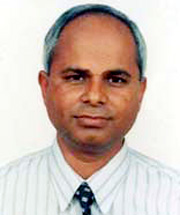 Dhaka, 10 June, Abnews : The government has given a green signal to set up an Information and Communications Technology (ICT) Directorate under the Ministry of ICT to provide support to the e-governance and e-service initiatives from union to ministry. The final approval for setting up ICT Directorate with manpower strength of 692 was given at a meeting of the Secretaries Committee on Sunday with Cabinet Secretary Mosharraf Hossain Bhuiyan in the chair, a top official source said.
Setting up an ICT Directorate under the Ministry of ICT will be another milestone development towards the implementation of the Digital Bangladesh as charted out in the Vision-2021, said Information and Communication Technology (ICT) secretary Md. Nazrul Islam Khan (N I Khan). He said prime Minister's personal initiative and her commitment towards the implementation of Digital Bangladesh have made it possible so quickly to get the nod to set up an ICT Directorate.
N I Khan said after publication of gazette, the ICT Ministry will take initiative to set up office manned mostly by skilled and technical persons in district and upazila headquarters to provide support to ongoing e-governance and e-service initiatives at unions, upazilas, districts and ministries.
The organogramme of ICT Directorate has proposed for appointment of 76 employees including Director General, Additional Director General and System Managers in the head office and 192 employees including Programmers, Maintenance Engineers in the district office and 424 employees including Assistant Programmers and Assistant Maintenance Engineers in the Upazila office.
Institutional supports are essential at a time when government has already established 4516 Union Information Service Centres, e-Service Centres at each Deputy Commissioner Office to ensure people's access to public services, N I Khan said. He said developing 24,000 webportals for all government offices at unions, upazilas, districts, divisions, city corporations, directorates and ministries to provide public services to the people are now at the final stage.
The establishment of ICT Directorate through its office under the directorate at upazila, district and divisional headquarters would provide technical and logistical support to these e-service centres for their smooth running, N I Khan said. Earlier, with the advancement of digitization the government established a separate ICT Ministry splitting the Science and Information and Communication Technology Ministry on 4 December 2011 to give more thrust for ICT sector.
Abn/Mon-01/Technology/Desk/MR/Mustafiz/Fatama
রিপোর্ট শেয়ার করুন »