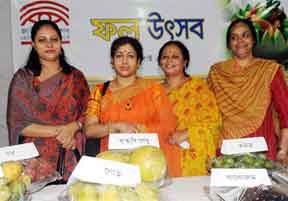 Dhaka, 28 June, Abnews : The annual fruit festival of Jatiya Press Club (JPC) was held today at the club compound with spontaneous participation of the club members and their family members. At least 30 varieties of local fruits were exhibited in the festival. JPC General Secretary Syed Afdal Ahmed welcomed the participants and its President Kamal Uddin Sabuj inaugurated the festival.
The programme was addressed, among others, by Joint Secretary of the club and convener of the entertainment committee Kader Gani Chowdhury, Manager of Apollo Ishpat Complex Limited Ansar Ali and club Vice President Kazi Rawnak Hossain. Eminent singer Tarek Jubair and Majusha rendered songs at the function.
Joint Secretary of the club Farida Yasmin, Treasurer Badiul Alam, committee members Hassan Hafiz, Nuruddin Ahmed, Shamsuddin Ahmed Charu, Nurul Hassan Khan and Mainul Alam, among others, were present at the function.
Abn/Fri-02/Economics/Desk/MR/Mustafiz/Fatama
রিপোর্ট শেয়ার করুন »