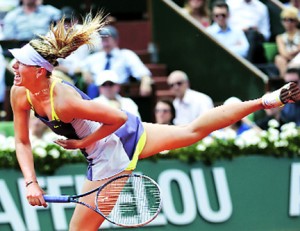 Dhaka, 07 June, Abnews : As Maria Sharapova celebrated her return to the French Open final, she let loose one last scream- this time a happy one. Serena Williams won more quietly and quickly, and she'll play Sharapova for the title on Saturday. Defending champion Sharapova overcame 11 double-faults and won a semifinal shriekfest against Victoria Azarenka, 6-1, 2-6, 6-4. Williams then advanced to her first French Open final since 2002 by dispatching of Sara Errani with 46 minutes of astounding power and precision, 6-0, 6-1.
Sharapova beat Errani in the final last year to complete a career Grand Slam, but she faces a tougher test this time. She's 2-13 against Williams, who has been on a mission after more than a decade of disappointment in Paris. The top-ranked Williams, a 15-time Grand Slam champion, won her only Roland Garros title 11 years ago by beating her sister Venus in the final.
While Williams easily won her semifinal, Sharapova advanced past Azarenka with a clamor. The two most notorious grunters in tennis wailed on nearly every swing, matching pitch and volume as they swapped powerful shots from the baseline.
Both sounded as if they were pushing a stalled Peugeot across lanes of traffic in the Arc de Triomphe. Come on, Monica, a spectator yelled at Sharapova, referring to one of the game's great grunters, Monica Seles. The aggressive swings resulted in a seesaw semifinal. Sharapova whacked 12 aces but was erratic with her second serve, and her groundstrokes were also unpredictable.
She needed five match points to seal the victory. Serving for the victory for the second time, she held at love and finished with an ace. Those last few points are the toughest, Sharapova said. I'm so happy that I regrouped and came out at 5-4 and served it out really well.
Abn/Fri-01/Sports/International/Desk/Mustafiz/Fatama
রিপোর্ট শেয়ার করুন »