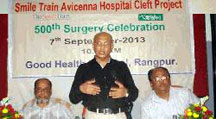 Dhaka, 08 September, Abnews : Good Heath Hospital (GHH) has conducted free surgeries to 500 poor lips cleft and soft palate cleft babies and general patients here during the last one year under its ongoing health free services programme.
The GHH has so far provided free surgeries to these patients during the past one year under financial assistances of the Smile Train Avicenna Hospital Cleft Project and technical cooperation of Smile Train and Avicenna Hospitals.
The information was disclosed at a press conference organised by GHH authority on Saturday at its conference room on the occasion of organising its tenth free surgery camp for the poor lip cleft and soft palate cleft surgeries to 32 poor patients.
Executive Director, noted physician and social worker of the divisional city Dr Mamunur Rashid presided over the press conference participated by a large number of local journalists. Physicians, medical college students, teachers,professionals, civil society members, patients and their guardians were present.
Head of the Department of Burn and Plastic Surgery of Shaheed Suhrawardy Medical College Hospital and Project Director of the Smile Train Avicenna Hospital Cleft Project Professor Dr Shahidul Bari (FCPS, Surgery) addressed as the chief guest.
Country Manager of the Smile Train Avicenna Hospital Cleft Project in Bangladesh Dr Mahbubul Hannan also addressed the press conference and answered various questions asked by the participating journalists on their ongoing benevolent health services.
Later, specialist surgeons and physicians led by Professor Dr Shahidul Bari conducted operations of 32 poor patients,including babies, children, men and women in the tenth free surgery camp at the Operation Theatre of GHH.
Abn/Sun-01/Health/Desk/MR/Mustafiz/Fatama
রিপোর্ট শেয়ার করুন »