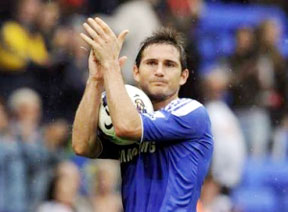 Dhaka, 13 October, Abnews : Frank Lampard is confident England will keep their composure against Poland at Wembley on Tuesday and secure a place at next year's World Cup finals. England head into the game top of European qualifying zone Group H following Friday's 4-1 win over Montenegro at Wembley. But to seal their place at Brazil 2014 they must beat Poland, assuming closest group rivals Ukraine, as widely forecast, defeat minnows San Marino.
Poland themselves can no longer qualify but Lampard knows from painful experience there is no such thing as an England international at Wembley where the opposition have 'nothing to play for'. It was a similar story in November 2007 when Croatia arrived with only their pride at stake.
However, the visitors' 3-2 win denied England a place at Euro 2008 and the result also ended Steve McClaren's reign as England manager, with the now Derby County boss dubbed the 'wally in the brolly' after sheltering under an umbrella during a rain- soaked night in north London. I try not to think about that night too much, Chelsea favourite Lampard, who scored against Croatia, said following the win over Montenegro. You remember the bad nights as much as the good ones.
In June, England held Brazil to a 2-2 draw in a friendly international at Rio's iconic Maracana Stadium and Lampard, who will be 36 by the time of next year's World Cup, would love nothing more than to play there again. Brazil is one of the homes of football, Lampard said.
We believe we are the home of football, but you have to admire their history (Brazil have won the World Cup a record five times) and the flamboyance they have over there. We played there in the summer and you could feel the magic around the place. If you are playing for your country you want to be at the World Cup there and that's why it's a huge game on Tuesday.
There is a lot of desire. Me and Stevie (Gerrard) have been here a long time and I think that is pushing us on. Unlike six years ago, England have the insurance policy of a play-off spot but Lampard said the team's focus was solely on beating Poland. I believe we will hold our nerve. I would like to think now we have the confidence and the threats we have going forward that we can make it a different night (to the Croatia one).
'Put on a show regardless'
Everyone loves playing at Wembley and they have some big- name players in their team so they will want to come here and put on a show regardless of whether they have qualified or not, insisted Lampard, who will win his 102nd cap if he plays against Poland.
Meanwhile Lampard praised England manager Roy Hodgson, who belied his reputation by fielding an attacking line-up on Friday, with the hosts' goal- scorers against Montenegro including debutant Tottenham Hotspur winger Andros Townsend. I don't always agree with the idea that he (Hodgson) is too cautious, Lampard said.
People said Jose Mourinho was cautious when he first came to Chelsea and we used to beat teams regularly by four and five (goals). And the usually reserved Hodgson revelled in taking a cheap shot at Dejan Savicevic, the former AC Milan and Red Star Belgrade midfielder who is now president of the Football Association of Montenegro.
Savicevic angered Hodgson after Montenegro drew 1-1 with England in a Group H tie in Podgorica in March by questioning the visitors' patriotic fervour. I don't mind saying this now but I was irritated with Savicevic in Montenegro when he suggested to me English players just play for themselves, Hodgson said.
He said we don't care about the shirt whereas Montenegrins throw themselves into everything. It was a complete load of rubbish. He might be changing that opinion after watching us swarm all over his players tonight (Friday)…I have just taken a cheap shot.
Abn/Sun-01/Sports/International/Desk/MR/Mustafiz/Fatama
রিপোর্ট শেয়ার করুন »