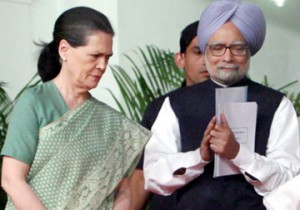 Dhaka, 03 June, Abnews : The UPA Coordination Committee will decide its strategy on Monday on the ambitious food security bill amid talk of options of calling a special session or taking the ordinance route in the wake of Opposition's uncooperative attitude. The government is preparing to bring an ordinance to implement the food security Bill if there is no political consensus on convening a special session of Parliament to pass the UPA's showpiece welfare legislation. Sources said the Congress core group on Saturday had decided that the government should explore the possibility of convening a special session. It will first consult allies and then reach out to the opposition.
If efforts in this direction do not fructify, the government will go for the ordinance route, sources said. A meeting of the UPA coordination committee has been convened on Monday to discuss the issue. Once the allies are brought on board, the government will talk to the opposition with the proposal for convening a special session of Parliament. An all-party meeting is likely to be convened on June 7.
There is no decision yet. We will discuss all things including the option of bringing an ordinance or convening a special session for passing it. To this, we will be talking to all parties. It will be one way or the other, Parliamentary Affairs Minister Kamal Nath told Indian media.
The meeting of the Congress top brass, which discussed the options before the government, came a day after Prime Minister Manmohan Singh spoke of the obstructionist attitude of the opposition and the animosities between the opposition and the government which he said has stalled essential parliamentary business. Congress chief Sonia Gandhi had aired similar views at the UPA government's fourth anniversary dinner a few days ago.
Abn/Mon-01/Law & Crime/International/Desk/Mustafiz/Fatama
রিপোর্ট শেয়ার করুন »