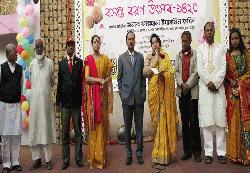 Dhaka, 14 February, Abnews : Speakers at separate discussions here have stressed for further flourishing and enriching of our own Bengali culture in building the long- cherished happy, peaceful, prosperous and non-communal Sonar Bangla.
They were addressing the discussions organised on Thursday by different socio-cultural organizations and educational institutions marking the traditional Basanta Utsab to welcome the first day of Falgun, the 11th month of Bengali Year, in the city.
In this respect, they called for bringing forth the past glories of Bengali culture to build the middle income digital Bangladesh as envisioned by Prime Minister Sheikh Hasina on the footing of Sonar Bangla as dreamt by Father of the Nation Bangabandhu Sheikh Mujibur Rahman.
Students, both male and female, wearing traditional Pajama- Panjabi and red-bordered yellow saree gathered at central Shaheed Minar to welcome the Pahela Falgun by singing Tagore's 'Ajee Ae Basante, Kato Ful Fote….' or reciting 'Ajee Basanto Jagrata Dware…..'
District Shilpakola Academy, Rangpur Sahittya Sangskritik Parishad, Chandosik Sahittya Sangskritik Gosthi, Sound Touch, Sammilito Sangskritik Jote and many other cultural organizations chalked out elaborate daylong programmes to welcome Basanta.
The programmes included colourful rallies in the morning, recitation of spring poems, musical soiree, drawing and dance competitions and discussion highlighting Nazrul's famous romantic song 'Ashe Basanta Fulabone, Shaje Banobhumi Sundari.'
The central Shaheed Minar area at Public Library premises,Surovi Uddyan, Begum Rokeya University and some other parts of the city wore festive looks, featured mainly by recitation of Basanta poems, songs and dances throughout the day. Deputy Commissioner Farid Ahammad presided over the main discussion meeting organised by District Shilpakola Academy at its auditorium in the city. Wife of the Deputy Commissioner and President of District Mohila Krira Sangstha & Rangpur Ladies Club Farhana Yasmin Farid attended and addressed the discussion as the chief guest.
Dance Trainer of Bangladesh Shilpakola Academy Tabassum Ahmed, General Secretary of District Shilpakola Academy Tauhidur Rahman Tutul, noted cultural personalities Siraj Uddin, Monwar Hossain, Razzaque Murad, Moksudar Rahman Mukul, SM Arif, Mahmuda Akhter Neela, Sirajul Islam Siraj and Lovely Begum, addressed as the special guests. The discussion meeting was followed by a colourful cultural evening.
Abn/Fri-02/National/Desk/MR/Mustafiz/Fatama
রিপোর্ট শেয়ার করুন »