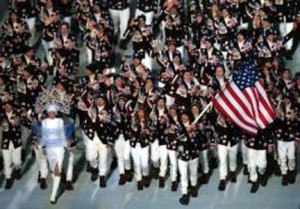 Dhaka, 08 February, Abnews : Olympic athletes were on Saturday set to compete for the first medals of the Sochi Winter Games after Russia staged a thrilling opening ceremony aimed at convincing sceptics it was a worthy host. President Vladimir Putin declared open the 22nd Winter Olympics which are inextricably linked with his name, after he championed the idea, bid and sometimes controversial construction race to host the Games in the Black Sea resort.
After a build-up dogged by controversies on issues ranging from Russia's gay rights record to security, the focus finally moves to the sporting action at sea-level and in the mountains with five gold medals available on Saturday. The first gold will likely come from the women's cross-country skiathlon, while Norwegian biathlete Ole Einar Bjoerndalen, 40, will become the joint most successful Winter Olympian of all time if he wins a medal in the sprint.
Women will seek gold in the spectacular moguls freestyle event, the men's snowboard slopestyle will be decided after a succession of spectacular crashes while the endurance kings of speed skating will face off for the lung-busting 5,000 metres.
The high-octane ceremony at the 40,000 capacity Fisht stadium on the Black Sea got off to a rocky start when one of five illuminated artificial snowflakes which were supposed to morph into the Olympic rings failed to appear, leaving an embarrassing set of just four rings. But organisers brushed off the technical glitch, admitting that they covered-up the glitch by quickly inserting footage of the segment they had recorded days earlier.
Thereafter the show charmed and stunned in equal measure, taking hundreds of millions of spectators around the world on a lightning tour of Russian history and culture guided by a young girl named Lyubov (Love). In a nod towards Russia's proud sporting past, the Olympic cauldron was lit by two triple gold- winning Soviet winter sports icons — figure skater Irina Rodnina and ice hockey legend Vladislav Tretyak — as fireworks rained into the sky.
The flame had been brought into the stadium by US-based Russian tennis star Maria Sharapova and the final relay included Olympic rhythmic gymnastics champion Alina Kabayeva who has been rumoured in some quarters to be Putin's lover.
– 'Not Gonna Get Us' –
The concerns that have shadowed these Games were underlined when a Ukrainian man attempted to hijack an airliner en route from Ukraine to Turkey and divert it to Sochi. But Turkish military jets forced the plane to land in Istanbul, where security teams overpowered the man, said to be drunk. Security concerns had already intensified as the United States announced a temporary ban on liquids and gels in hand luggage on Russia-bound flights, following a warning that militants could stuff explosives into toothpaste.
There were no signs of such tension in Sochi as the teams entered the stadium — led by tradition by ancient Olympic Games founder Greece — to the sound of pumping dance house music in an effort to dynamise the procession. The Russian team won huge cheers as they entered to the song Nas Ne Dogonyat (Not Gonna Get Us) by female pop duo Tatu known for their raunchy lesbian-tinged pop videos.
Although both girls are heterosexual, their involvement could be seen as a coded riposte to Western allegations that Russia is intolerant of homosexuality. In line with Olympic protocol, Putin, who has championed the drive to host the Olympics in Sochi since before the successful bid in 2007, made no speech save declaring the Games open.
Putin welcomed more than 40 other heads of state and leaders for the ceremony, including UN Secretary General Ban Ki-moon, Chinese President Xi Jinping, and embattled Ukrainian President Viktor Yanukovych. However US President Barack Obama as well as the leaders of key EU states Britain, France, and Germany were conspicuous by their absence, a move seen by many as a snub over Russia's now notorious anti-gay law.
IOC President Thomas Bach made an impassioned call for politics to stay out of sports, saying have the courage to address your disagreements in political dialogue and not on the back of your athletes. Some 3,500 fireworks weighing a total 22.5 tonnes were set off in the course of the ceremony which involved some 3,000 performers and 2,000 volunteers. But it remains to be seen whether the Sochi opening ceremony will shift the cloud of controversy that has hung over the Games, the most expensive in history with an estimated price tag of $50 billion.
Abn/Sat-01/Sports/Desk/MR/Mustafiz/Fatama
রিপোর্ট শেয়ার করুন »