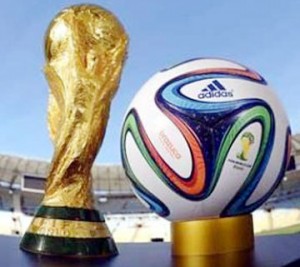 Dhaka, 17 December, Abnews : As part of its world tour, the authentic trophy of FIFA World Cup arrived at Hazrat Shahjalal (R) International Airport in Dhaka Tuesday. Sports Ministry, Bangladesh Football Federation along with representative of Coca-Cola, official partners of the FIFA, received the trophy at the airport around 1:00pm.
The FIFA trophy will be kept in the country for three days. Coca Cola took initiatives to bring the World Cup trophy in Bangladesh as a part of campaign. It will be taken to Bangabhaban from the airport where President Abdul Hamid will complete the formalities of receiving the trophy.
From the Bangabhaban, the trophy will be taken to the Gonobhaban, official residence of Prime Minister Sheikh Hasina. Then, the WC trophy will be taken to Hotel Radisson in the city. Some 15,000 viewers will get the chance to see the trophy on Wednesday and Thursday at Bangabandhu National Stadium. Coca Cola arranged the programme. The trophy will leave Bangladesh for Bhutan at 9:30am Friday.
Abn/Tue-02/Sports/Desk/Nazmul Houda/Mustafiz/Fatama
রিপোর্ট শেয়ার করুন »