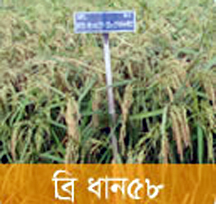 Dhaka, 28 May, Abnews : Agriculture experts at a crop cutting ceremony on Monday afternoon here called upon farmers for expanded cultivation of high yielding variety BRRI dhan58 paddy to ensure food security under adverse climate.
The farmers can transplant older (60-70 day age) seedlings of BRRI dhan58 variety during Boro season to produce up to 7.5 to 8 tonnes of the paddy, growing plants of which are highly resistant against seasonal nor'westers and hailstorms, they said.
They were addressing the ceremony organised by Rangpur Hub of International Rice Research Institute-Cereal Systems Initiative for South Asia in Bangladesh (IRRI-CSISA-BD) Project with USAID funding in a farmers' field day in village Shahabajpur.
Additional Director of the Department of Agriculture Extension (DAE) Sikander Ali attended the ceremony as the chief guest with local elite Alhaj Mohammad Nurul Islam in the chair.
Renowned rice scientist with international repute and Associate Scientist-Cropping Systems Agronomy of Rangpur Hub of IRRI-CSISA-BD Project Dr Hazrat Ali addressed as the special guest.
Monitoring Officer of Rangpur Hub of IRRI-CSISA-BD Project Khurshida Begum, its Administrative Officer Ataur Rahman, Officer-Agricultural Development Mohammad Niazi, Regional Coordinator of NGO Solidarity Jahangir Alam Sarker, Sub-assistant Agriculture Officers of the DAE and journalists were present.
Officer- Agricultural Development of Rangpur Hub of IRRI- CSISA-BD Project Mahbubur Rahman conducted the ceremony participated by over 150 male and female farmers of the area.
The experts said growing plants of BRRI dhan58 paddy have high resistance capability to shattering if hit by disasters like nor'westers or hailstorms to produce even up to 6.5 tonnes paddy per hectare when other varieties are generally destroyed by such calamities.
Under normal conditions without suffering disasters, yield rate of BRRI dhan58 generally stands between 7.5 to 8 tonnes paddy per hectare and does not decrease if older seedling (60-70 days) were transplanted during the Boro seasons, they said.
They called upon the farmers for launching expanded cultivation of BRRI dhan58 paddy adopting the latest technologies and agronomical managements during Boro season to increase rice production for ensuring food security and enhance national economy despite adverse climate change impacts.
Later, the BRRI dhan58 variety Boro crop was harvested in the field of farmer Mohammad Safiuddin to get 6.5 tonnes paddy yield per hectare from the field that sustained nor'westers coupled with hailstorms this season.
The local farmers thanked the IRRI-CSISA-BD Project for providing seeds of BRRI dhan58 paddy with technology and expressed satisfactions over its excellent yield despite the growing plants were hit by nor'westers and hailstorms recently.
Abn/Tue-01/Economics/Desk/MR/Mustafiz/Fatama
রিপোর্ট শেয়ার করুন »