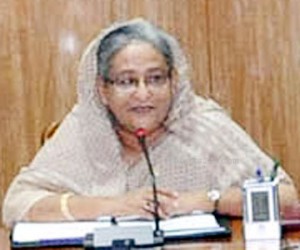 Dhaka, 06 February, Abnews : Prime Minister Sheikh Hasina has reiterated her commitment to reach electricity to every household saying to make this happen the government would take steps for implementing long-term projects apart from exploring new sources including renewable energy.
Every house will get electricity according to our election commitment and we will take all pragmatic steps to this end, she said in a meeting with the senior officials of ministry at its conference room here today. The Prime Minister, who is also in charge of the Ministry of Power and Energy, visited the ministry for the first time after formation of the present government and attended office.
The Prime Minister extended her sincere thanks to officials and employees of all level of the ministry for their concerned and relentless efforts for success of the power sector over the last five years and get people relief from acute power crisis. She said, the country was reeling on acute power shortage when her government assumed office in 2009. During BNP-Jamaat regime many people laid their lives demanding electricity, she said.
The Prime Minister said, power generation rose to 4300 MW from 1600MW during Awami League tenure from 1996 to 2001. But taking office after seven years, we found no improvement of generation, rather decrease. She said, her government permitted power plant in private sector and brought necessary changes in the law to meet up the immediate crisis. Under that process a total of 69 power plants were constructed in the country making the country generate 10,000 MW everyday, she said.
PM's advisor on power and energy Dr Towfiq-E-Elahi Chowdhury, state minister for power Nasrul Hamid, PM's principal secretary Sheikh M Wahid Uz Zaman, ERD secretary Abul Kalam Azad and power secretary Monwar Islam and senior officials of the ministry were present.
Pointing out her party's 2008 election pledge on increasing power production, the Prime Minister said, "We had commitment of producing 7,000 MW power by 2013. But, our power generation capacity increased to 10,000 MW, which is a great uplift. We will give electricity to every house. In view of this, the government is taking multifaceted steps including promotion of renewable energy, solar energy, she said.
The government has taken steps for increasing gas production, import electricity from neighbouring countries, and liquid natural gas (LNG) from abroad, she added. The Prime Minister said, Country's socio-economic development depends on electricity production. The country will have more development as more electricity will be generated.
Extending her thanks to the people of Bangladesh for electing her party in the office, the Prime Minister said, the people braving all obstacles have cast their votes. Their support helped continuing the pace of development, she said.
Sheikh Hasina said, People could not be barred from exercising their franchise even destructive activities of BNP-Jamaat and killing people by hurling bombs and setting fire. About 40 percent people have cast their votes and we have constituted government as their representatives.
The Prime Minister said, Bangladesh is moving forward even in global economic crisis. Bangladesh's progress is a surprise to the world which many developed countries could not show. Bangladesh's progress was possible as every people worked with sincerity and being imbued with the spirit of patriotism, the Prime Minister said.
Abn/Thu-02/National/Desk/MR/Mustafiz/Fatama
রিপোর্ট শেয়ার করুন »