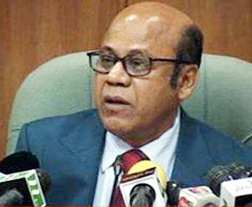 Dhaka, 05 January, Abnews : State  minister of Law Md Quamrul Islam has said that the elections would be 'acceptable', despite poor turnout so far. He told journalists after casting his vote at a polling centre in Dhaka-7 constituency on Sunday that the polls were going on peacefully, barring some incidents outside Dhaka. But it's peaceful in Dhaka, he said outside the Chakbazar Shidhu Hospital polling centre.
Md Quamrul Islam said the elections were necessary to continue the democratic process and reiterated his party's position that the next elections could be held anytime in agreement with the opposition BNP that has now stayed away from the polls. But it depends on BNP, he said, they (BNP) must shun Jamaat-e-Islami and stop violence before dialogue for the next elections could start.
Polls opened at 8am at 147 constituencies out of 300 as more than half of the seats returned winners uncontested due to BNP's boycott. In Dhaka-7 constituency in Old Dhaka, Awami League candidate Mustafa Jalal Mohiuddin is contesting against independent candidate Haji Md Selim. Selim has represented the constituency in Parliament for the Awami League before but is contesting as an independent as he failed to get the party ticket this time. But he has not been expelled from the party.
Mohiuddin was a former central Awami League leader. The party leaders have been seen working for both the candidates. However, another independent candidate Mohammad Reaz Uddin's presence has not been felt. During visit of at least 10 centres of the 120 in this constituency, his polling agent was found only in three centres. There are 301,289 voters in this constituency.
Mohiuddin, however, complained against his rival Selim for creating chaos. Selim after casting his vote around 10.15am told journalists that he would not complain against his former central leader. He has been complaining against me for the last four days. But I would not say anything even if he does any wrong. However, the turnout continued to be low.
At Badrunnesa Women College, only 200 voters had exercised their franchise of the total 2,543 voters in the first four hours of the polls. But the turnout was better in the candidates' own centres. Only a queue could be seen before the Islamia High School centre which is close to Selim's residence.
The opposition BNP boycotted the polls and called on the people to resist the one-sided elections, a step which is believed influencing the poor turnout. Besides, violence unleashed by the Opposition in recent weeks across Bangladesh and ongoing shutdown have led to panic that could impact the turnout.
Abn/Sun-02/Politics/Desk/Nazmul Houda/Mustafiz/Fatama
রিপোর্ট শেয়ার করুন »