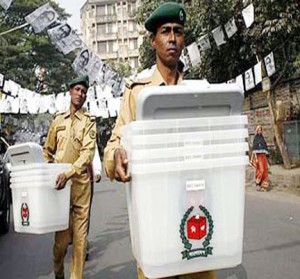 Dhaka, 21 November, Abnews : The Election Commission (EC) will announce the schedule for the 10th parliamentary election by next Tuesday. The date for the election may fall on either 7 or 8 January, a trustworthy source at EC has confirmed the news to abnews. "We don't have much time on our hands. Hopefully, we will be able to announce the schedule sometime next week," Election commissioner told reporters.
Meanwhile, trustworthy sources have also informed abnews that Parliament will be dissolved after the election schedule is announced, and that the EC has already made the proposal to the government via a request to the President. There is also plan to deploy army to control law and order situation as soon as the schedule is announced.
Election will be held on January 7 or 8 depending on whether the schedule is announced on November 25 or 26. Chief Election Commissioner, Kazi Rakibul Islam will announce the schedule in a countrywide address on radio and television. The schedule will give 44 days to prepare for elections.
Abn/Thu-02/National/Md. Nazmul Houda/Mustafiz/Fatama
রিপোর্ট শেয়ার করুন »