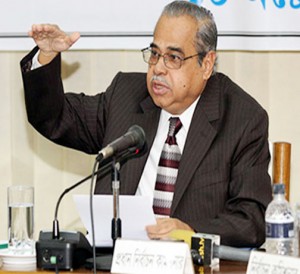 Dhaka, 20 November, Abnews : The Election Commission (EC) is likely to proclaim the schedule of the 10th national election in the last week of November. Election Commissioner Shah Nawaz said they would meet in a day or two to finalise the schedule. An announcement might come next week, he told reporters at the EC Secretariat on Wednesday.
On Monday, a four-member EC team, headed by Chief Election Commissioner Kazi Rakibuddin Ahmad, met President Abdul Hamid, informing him that they were 'ready' to organise a free, fair and trustworthy election.
Responding to reporters query, Nawaz said that they sought the President's help to ensure a fair polls and participation of all political parties. The President has assured us of his help within the parameters of the Constitution.
The parliamentary election will be held by Jan 24 next year as per Constitutional mandate. According to the Constitution, the Prime Minister would recommend a possible date for the election to the President. The Commission will announce schedule and organize polls as per the President's recommendations.
On Oct 24, Prime Minister Sheikh Hasina had said that she would request the President to hold the election at the 'right time' after consulting members of the ruling alliance. However, the procedure to form an 'all-party' interim cabinet to oversee the next election has already started. Six ministers and two state ministers were sworn in on Monday.
The Awami League-led government has said that the BNP was still welcome to join the interim cabinet and guaranteeing it enough representations. But the main opposition has described the interim cabinet as a 'farce'. It has also declared that the Opposition will not go to polls under this cabinet.
Abn/Wed-02/National/Md. Nazmul Houda/Mustafiz/Fatama
রিপোর্ট শেয়ার করুন »