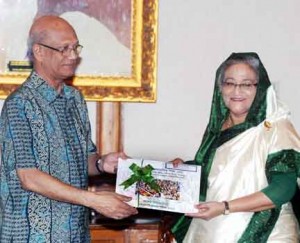 Dhaka, 03 August, Abnews : The results of this year's Higher Secondary Certificate (HSC) and equivalent examinations were published today. Education Minister Nurul Islam Nahid handed over the results to Prime Minister Sheikh Hasina this morning at her official residence Gonobhaban. Chairmen of all education boards and education secretary, officials of Department of Secondary and Higher Secondary Education were present at that time. The Prime Minister through a video conference with the students and teachers of Government MM College, Government Mohila College and Amenia Jaamia Madrasa in Jessore from Deputy Commissioner conference room published the results of the institutions.
The results were published within 60 days from the date of conclusion of the examinations as per the announcement of the Education Ministry. A total of 10,02,496 examinees appeared the HSC and the equivalent examinations this year. Out of them, 7,44891 students came out successfully with 58,197 securing GPA-5. The pass rate is 74.30 %. Hundred percent students passed in 84 institutions.
Pass rate in Dhaka Board is 74.04%, Chittagong 61.22%, Sylhet 79.13%, Dinajpur 71.94%, Jessore 61.49%, Barisal 71.69%, Comilla 61.29%, Rajshahi 77.69%, Technical Education Board 85.03% and Madrasa Board 91.46%. The HSC and equivalent examinations began on April 1 and were scheduled to end on May 28. But the students had to face immense trouble due to shutdowns and hartal enforced by the opposition party and Jamaat.
Authorities had to reschedule exams of about 32 subjects due to series of hartal, and the exams finally ended on June 3. The results will be available at all centres and on websites of the education boards. The students can avail the results by sending SMS to number 16222 with text 'HSC' followed by space then first 3 letters of the respective education board followed by space again and then roll number.
Abn/Sat-01/Education/Desk/Jasim/Mustafiz/Fatama
রিপোর্ট শেয়ার করুন »