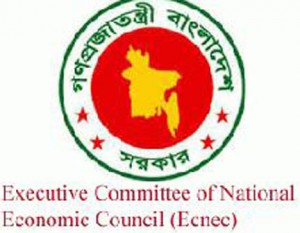 Dhaka, 19 January, Abnews : The Executive Committee of the National Economic Council (ECNEC) today approved 13 development projects involving Taka 7,735 crore including decoration of the capital city ahead of the forthcoming T20 World Cup. The approval came at the first ECNEC meeting of the new government held at the NEC conference room in city's Sher-e-Banglanagar with Prime Minister and ECNEC chairperson Sheikh Hasina in the chair.
Planning Minister A H M Mustafa Kamal briefed the newsmen about the outcome after the meeting. He informed that the ECNEC approved a total of 13 development projects with a cost of Taka 7,735 crore. Of the total cost, Taka 3,588 crore will come from the national exchequer while the remaining Taka 4,147 crore will come as Project Assistance, he added.
The decoration of the capital involving Tk 115 crore has been taken ahead of the T-20 World Cup scheduled to be held in March this year. Under the project Improvement of road infrastructure and beautification work around Mirpur Shere-e-Bangla National Cricket Stadium and major roads of Dhaka City for ICC World Cup T20 Bangladesh, 2014 would be done. In addition, infrastructural development of the adjoining roads of two international cricket stadiums and other major roads of the capital would be completed. Besides, beautification and decoration works and flawless traffic movement would be ensured.
Local Government Division will implement the project with a cost of Taka 115 crore, of which Taka 92 crore would come from national exchequer and Dhaka North City Corporation will provide Taka 23 crore from own fund. Infrastructural development of about 23 km roads, electrification and setting of street light, traffic sign and road marking on 23.50 km roads and beautification and bright lighting of 20.50 km roads have been included in the project.
The ECNEC gave nod to another project entitled Municipal Governance and Services Project. Under the project, development of 600 km roads, 400 km drainage line, 26 wholesale markets, 26 kitchen markets, 12 bus terminals, 4 truck terminals, 36 public toilets, and 6 parks and construction of 570 meter culverts would be completed.
Besides, capacity building and implementation support would be provided in 146 municipalities. The project cost stands at Taka 2,471 crore. World Bank will provide Taka 1,954 crore for the project. Local Government Division would implement the project in January 2014 to December 2019 period.
The other projects approved in the meeting are: Higher education quality enhancement project (Tk 2,054 crore, GoB Tk 263 crore and PA Tk 1,791 crore); Establishment of Technical School in 100 Upazila project (Tk 924 crore-GoB); Establishment of 30 Technical Training Centers (TTC) in different Districts (2nd Revised) project (Tk 826 crore-GoB); Integrated Farm Management, Agricultural Production and Employment Programmes (Tk 432 crore; GoB Tk 108 crore and PA Tk 324 crore); Bangladesh Railway Reformation Project (Tk 315 crore, GoB 78 crore and PA 237 crore); Construction of Kalna Bridge over Modhumoti River project (Tk 245 crore-GoB); Kishoregonj-Karimgonj-Chamraghat-Mithamoin Road Development project (Tk 89 crore-GoB); Patnitala-Sapahar-Rahanpur Road Development Project (Tk 128 crore-GoB); Kansut-Rahanpur- Bholahat Road Development Project (Tk 33 crore-GoB); Shaheed Monsur Ali (Pipulbaria-Sonamukhi-Dhunat) Road Development project (Tk 53 crore-GoB) and Birulia-Ashulia Road Construction (2nd revised) project (Tk 50 crore-GoB). Ministers, Members of the Planning Commission, Secretaries and officials concerned were present at the meeting.
Abn/Sun-01/Sports/Desk/MR/Mustafiz/Fatama
রিপোর্ট শেয়ার করুন »