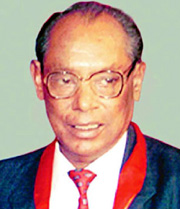 Rangpur, 07 May, Abnews : Elaborate daylong programmes have been chalked out by different organisations to observe the fourth death anniversary of noted nuclear scientist and Prime Minister Sheikh Hasina's husband Dr MA Wajed Miah on Thursday. Dr Wajed Smriti Sangsad (DWSS) at a meeting held at Rangpur Bar Library auditorium last night, finalised its daylong programmes in observance of the death anniversary at Dr Wajed's paternal village Fatehpur and in the city on May 9. President of DWSS and valiant freedom fighter Advocate Abdul Gani chaired the meeting that was addressed by its Senior Vice- president Dr Hamidul Haque Khandker, Vice-president Monwar Hosain and General Secretary Saiful Islam Jahangir.
Zila Parishad Administrator Advocate Rezina Razzaque, Law Affairs Secretary of DWSS Advocate Rothish Chandra Bhowmick, Women Affairs Secretary Tahmina Shirin, Organising Secretary Elahi Farroque and businessman AKM Mozammel Haque, spoke. The daylong programmes include offering Fateha and placing of wreaths at the grave of Dr Wajed in his paternal village Fatehpur under Pirganj upazila at 9am, milad mahfil at Karamotia Mosque in Rangpur city after Asr prayers on Thursday.
Special prayers will be offered at different mosques, mandirs, churches and other places of worships seeking eternal peace for Dr Wajed and well-being of Prime Minister Sheikh Hasina, Sajib Wajed Joy, Sayma Wajed Putul and their other family members. Childhood companion of Dr Wajed and President of DWSS Advocate Abdul Gani will preside over the main discussion at Zila Parishad auditorium in the city at 4 pm with the participations of academicians, professionals, intellectuals and educationists.
Besides, Dr Wajed Foundation, Zila Parishad, district and city units of Awami League (AL), Pirganj upazila AL and other organisations will also observe the fourth death anniversary of Dr Wajed through daylong programmes on the day.
Abn/Tue-01/Exclusive News/National/Correspondent/Mustafiz/Fatama
রিপোর্ট শেয়ার করুন »