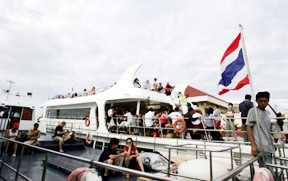 Dhaka, 29 May, Abnews : More than 100 people were rescued rom a tourist ferry which began to sink in rough seas near the opular Thai resort island of Phuket, police said Wednesday.
The 114 passengers were picked up by a passing boat after the Phuket- bound ferry from Phi Phi island began to take on water on Tuesday and sent out a distress signal, according to the authorities.
The ship was struck by waves and cracked. It wasn't overloaded because its maximum capacity is 150 passengers, said Lieutenant Colonel Chatchai Sakdee, chief inspector of Phuket marine police. There were about 100 foreign tourists on board but nobody was injured, Chatchai added.
Thailand welcomes millions of foreign visitors every year, but safety standards in the kingdom are generally poor and deaths involving tourists are common.
Abn/Wed-01/International/Desk/MR/Mustafiz/Fatama
রিপোর্ট শেয়ার করুন »