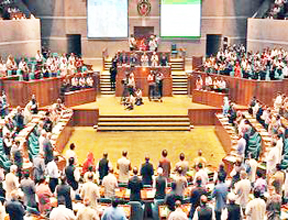 Dhaka, 24 November, Abnews : A Supreme Court lawyer in a public interest writ petition on Sunday sought High Court's directives to the prime minister to advise the president to dissolve the parliament in 42 days, before declaration of the election schedule to the coming tenth parliament elections, as the Appellate Division said in its verdict.
The petitioner, Eunus Ali Akanda, also prayed for a court directive on the chief election commissioner asking him not to declare the election schedule till disposal of the writ petition.
Eunus Ali Akanda told reporters that he would like to move the petition in the bench of Justice Mirza Hussain Haider and Justice Muhammad Khurshid Alam Sarkar later in the day.
The prime minister, speaker, secretaries to the cabinet division and the law ministry and the chief election commissioner were made as respondent in the petition.
The Appellate Division in its verdict of  May 10, 2011 declared the caretaker government provision illegal and said in the observations that two more elections might be held under non-party caretaker system as the 13th amendment of the Constitution had stipulated, recalled Eunus.
Chief justice Justice ABM Khairul Haque, who was the author judge of the 13th amendment verdict, in his 16-point summarized judgment also said, that 'in case of holding the general elections, at the prudence of parliament, parliament should be dissolved at a reasonable time before the polls; the period may be 42 days'.
The writ petition was filed when the commission is set to announce today or tomorrow the schedule to the 10th parliamentary polls.
Abn/Sun-01/National/Nazmul/Mustafiz/Fatama
রিপোর্ট শেয়ার করুন »