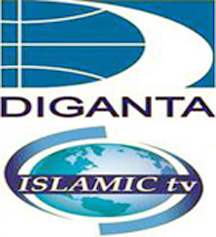 Dhaka, 06 May, Abnews : Diganta & Islami TV goes off air early Morning of Monday. Bangladesh Telecommunication Regulatory Commission (BTRC) officials and law enforcers conducted a drive at the office of the private TV channel 'Diganta' at Purana Paltan in Dhaka in the early hours of Monday and suspended its broadcasting. People clamed, The government knocked off the air Diganta Television, tied to Jamaat-e-Islami, and pro-BNP Islamic TV.
Ziaul Kabir Sumon, Chief News Editor of Diganta TV, confirmed the suspension to Natunbarta.com. Sumon said a team of law enforcers, accompanied by BTRC officials, suddenly arrived at the office at around 04:00am Monday and took away several machineries and equipment. Police sources say the broadcasting of the channel was suspended according to directives of higher authorities.
The government made the move without citing any reason, an official of the private Diganta station said. They said they were temporarily suspending the broadcast saying it was a government order, according to him. No-one from BTRC could be reached immediately for comment. We asked them for papers. They told us you will get paper. Now cooperate with us.
Then they stopped transmission at 4:24am, Sumon added. We were running news when they stopped transmission. A senior Jamaat leader Mir Quasem Ali is the Chairman of the Diganta Media Corporation which owns and operates The Daily Naya Diganta newspaper and Diganta TV.
Islamic TV also went off air 'temporarily', its Director Shams Eskander told bdnews24.com. "We have stopped all transmission from 2.30am on Monday," Eskander said. He said the law enforcers had come to their office at around 2am and asked them to close down before locking up the telecast centre.
The official accused the law keepers of vandalism in the office but said they had not been served any formal notice to close down transmission. BNP Chairperson Khaleda Zia's younger brother, late Sayeed Eskander, was the founding Chairman of the station.
Abn/Mon-01/Media/Desk/Jasim/Mustafiz/Shila
রিপোর্ট শেয়ার করুন »