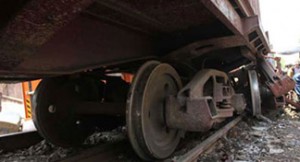 Dhaka, 01 May, Abnews: Chittagong's railway link with Dhaka and Sylhet was snapped on Wednesday after the 'Jalalabad Express' derailed in Comilla.
Comilla Railways Assistant Executive Engineer Irfanul Islam told the press that one coach of the train went off the track near Comilla Sadar's Doutalpur crossing around 11:45am. The 'Jalalabad Express' was heading for Chittagong from Sylhet. Islam could not specify immediately the cause of the derailment. But he said a rescue train was on its way to the site of the accident from from Laksham.
'Train services will resume after the derailed train is moved away.' No casualties were reported immediately.
Abn/Wed-01/National/Desk/Mustafiz/Majumder/Ripa
রিপোর্ট শেয়ার করুন »