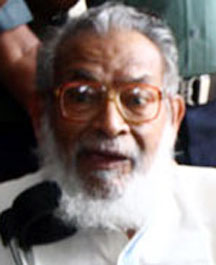 Dhaka, 09 October, Abnews : The International Crimes Tribunal (ICT) today awarded imprisonment to BNP leader and former minister Abdul Alim till his natural death. The three-member panel of ICT-2 headed by Justice Obaidul Hasan awarded the sentence by delivery of the judgment as nine of the charges of 17 of committing crimes against humanity during the War of Liberation were proved beyond doubt against Alim.
Quoting the judgment, Attorney General Mahbubey Alam told reporters that capital punishment (death sentence) for Abdul Alim was proper and justified for his offences, but considering his age and health condition, the sentence has been reduced. Prosecution submitted 17 charges including arson, looting, mass killing and rape in different areas under Joypurhat district against BNP leader Abdul Alim.
Alim was accused of killing thousands of people in Joypurhat in collaboration with Pakistani army and committing crimes against humanity as Peace Committee Chairman of the district in 1971. He was also accused of handing over several women to Pakistan occupation army, who were later raped by them.
The BNP leader was arrested on March 27 last year shortly after a warrant of arrest was issued by the ICT on charges of his involvement in wartime crimes. On March 31 this year, the ICT granted bail to Abdul Alim on health grounds with certain conditions.
According to the conditions, he was asked to stay at the Dhaka residence of his son Faisal Alim. He was also asked not to contact the persons involved with allegations against him and not to use telephone without permission. At the last stage of the trial process, the ICT cancelled his bail and sent him to jail on September 22.
Abn/Wed-01/Law & Crime/Desk/MR/Mustafiz/Fatama
রিপোর্ট শেয়ার করুন »