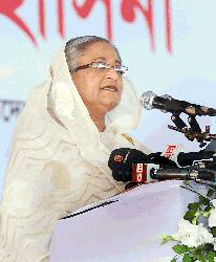 Dhaka, 04 September, Abnews : Prime Minister Sheiekh Hasina today said the government is contemplating making computer education compulsory from primary level. She said gradually every school in the country will have a computer lab and the cost of bandwidth would be further reduced to make Internet service available for people. She said this while addressing a function at her Tejgaon office in connection with launching installation of computer labs in secondary schools with the financial support of the Indian government.
Sheikh Hasina said IT Business Incubator would be set up in public universities and scope would be created for research on IT. Under the project, computer lab would be set up in one secondary school in each district. An agreement between the two countries in this regard was signed during Indian Prime Minister Dr Manmohan Singh's Dhaka visit in September 2011.
Education Minister Nurul Islam Nahid and Indian High Commissioner to Bangladesh Pankaj Saran attended the function as special guests while ICT Minister Mostafa Faruk Mohammad was in the chair. ICT Secretary Nazrul Islam Khan gave the welcome address.
On behalf of the students, Zannatul Mawa Chowdhury, a student of twelfth class of Shamsul Haq Khan School and College, Demra expressed her feeling of using ICT in education while Shahidul Alam, deputy commissioner of Barisal and teacher Shankar Kumar Saha also spoke on the occasion.
The Prime Minister said Bangladeshi students are progressing fast keeping pace with the digital world. With setting up of the computer labs in schools, more scope will open up before them to acquire knowledge on information technology, she said.
Sheikh Hasina thanked friendly Indian government for the support saying about four thousand labs were already set up in different schools. In phases, such lab would be installed in every institution in urban and rural areas, she said.
The Prime Minister said computer labs in schools providing opportunities to students as well as teachers and local people to have practical knowledge on IT. College and school teachers are being given training on ICT in those labs, she said.
Pointing her government commitment to build a Digital Bangladesh by 2021, the Prime Minister said a separate ministry was established to create necessary facilities. My son and IT expert Sajib Wajed Joy helped the government in this work, Sheikh Hasina said.
The Prime Minister said the government is creating new opportunities in the area of ICT everyday. Many progammes are being implemented for making ICT education attractive and result- oriented. She said the government has taken steps for infrastructure development of IT sector and ensuring right to information. E- governance has been established to ensure good governance and justice, she added.
Ministries were connected with departments, district and upazila offices through ICT network which contributed to improve efficiency as well as momentum in the work. She said the government has reduced the price of bandwidth to make it available and in phases the price would be further reduced.
Pointing out the establishment of Information and Service Centre in every union, the Prime Minister said, We want to groom up our young generation rich in IT knowledge. She said a hi-tech park on IT is being constructed at Kaliakoir, Gazipur and IT village would be set up in every division.
Indian High Commissioner termed the India-financed computer lab installation in 64 district as a milestone in development of relationship between the two countries. Bangladesh's education programme has received universal acknowledgement and vision for a Digital Bangladesh has ushered in a new hope among people, he said.
Abn/Wed-01/Education/Desk/MR/Mustafiz/Fatama
রিপোর্ট শেয়ার করুন »