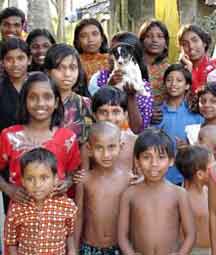 Dhaka, 01 August, Abnews : Access to clean water and soap not only improves personal hygiene, it may also boost growth in young children, a review of studies conducted in countries like Pakistan and Bangladesh has found. The review found evidence of small but significant improvements in growth of children under the age of five who have access to clean water and soap. Researchers from the London School of Hygiene & Tropical Medicine and WaterAid identified 14 studies conducted in low and middle income countries (Bangladesh, Ethiopia, Nigeria, Chile, Guatemala, Pakistan, Nepal, South Africa, Kenya and Cambodia) that provided data on the effect of water, sanitation and hygiene programmes on the physical growth of 9,469 children.
The authors' analysis of the data suggested that interventions to improve the quality of the water in the household and provide soap resulted in an average 0.5cm increased height growth in children under the age of five. For the first time our analysis suggests that better access to these services may also have a small but important impact on the growth of young children, lead author Dr Alan Dangour, said. While there are some important shortcomings in the available evidence base, we estimate that clean drinking water and effective hand washing could reduce the prevalence of stunting in children under the age of five by up to 15 per cent.
This is potentially an extremely important finding, that identifies that improving access to water, sanitation and hygiene could be a key part of the tool kit to tackle the global burden of under-nutrition, said Dangour.
Poor height growth, or stunting, affects 165 million children worldwide and results in long term impacts on physical and mental development, increasing the risk of mortality and reducing productivity in adulthood. Researchers said under-nutrition is a cause of 3.1 million deaths annually nearly half (45 per cent) of all deaths in children under five.
Abn/Thu-01/Lifestyle/International/Desk/Mustafiz/Fatama
রিপোর্ট শেয়ার করুন »