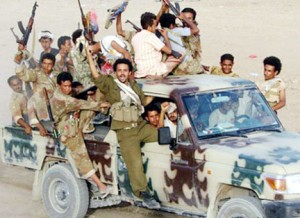 Dhaka, 06 January, Abnews : Two days of clashes between Shiite rebels and Sunni tribesmen fighting alongside hardline Salafists in northern Yemen have killed at least 23 people, sources said on Sunday. Fighting has centred for months on a Salafist mosque and Koranic school in Dammaj, which has been besieged by the Shiite rebels known as Huthis.
But the conflict has spread in the northern provinces, embroiling Sunni tribes wary of the power of the Huthis, who have repeatedly been accused of receiving support from Iran. On Sunday, at least 10 people were killed in Jawf province in clashes between rebels and armed men from the Daham tribe, a tribal chief told media.
Seven people were killed at Harf Sufyan, in the northern province of Amran, another tribal chief said on Sunday, while two others died in shelling of Dammaj, in Saada province, Salafist websites reported. Four people died in fighting that took place in Jawf on Saturday, another tribal chief said.
Huthi rebels this week took over positions evacuated by Salafist gunmen in the area of Kitaf, north of Saada city, witnesses said, adding the rebels demolished the Salafist Dar al-Hadith religious school and 20 houses. The rebels have also warned border guards to evacuate the Bart al-Anan crossing point with Saudi Arabia, in Jawf, according to the head of the force, Colonel Qassem Thawaba. Source: Internet
Abn/Mon-02/International/Desk/Nazmul Houda/Mustafiz/Fatama
রিপোর্ট শেয়ার করুন »