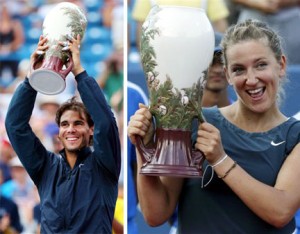 Dhaka, 19 August, Abnews : Rafael Nadal extended his sizzling summer with a first-time title. One set away from her own breakthrough, No. 1 Serena Williams wilted. Nadal took advantage of the few openings he got against John Isner on Sunday, grinding out a 7-6 (8), 7-6 (3) win at the Western & Southern Open that added yet another title to his sensational summer. The 27-year-old Spaniard won the championship in Montreal a week ago and has back-to-back hard-court championships for the first time in his illustrious career. He'd never even reached the finals in Cincinnati.
When his backhand down the line finished it off, Nadal flopped on his back and screamed. It means a lot winning two straight titles on hard [courts], Nadal said. It's just amazing for me. I never did something like this in my career. So it was an emotional moment. Williams had never won a Cincinnati title, either. Like Nadal, she was trying for her second championship in two weeks, fresh off her championship in Toronto.
She dominated the first set, then fell apart, giving No. 2 Victoria Azarenka a chance to rally for a 2-6, 6-2, 7-6 (6) win that ended Williams' 14-match winning streak. Williams committed 58 unforced errors that turned the momentum. I just felt really off this whole week, but I was surprised to be in the final and surprised to be doing well, Williams said. So I don't know, there's a few factors. I think what matters most was just fighting the whole time and survived to the end.
The week in Cincinnati provided a preview for the U.S. Open, with the men's bracket more jumbled at the top. I would say Rafa is the favourite going to the U.S., Isner said. Clear-cut? I wouldn't say that. I think he'd probably say the same.
If you compare maybe him and Serena, I think Serena is probably a more clear-cut favourite on the women's side than Rafa is on the men's side, but he certainly is going to be super tough to beat considering he just won back-to-back Masters events on hard courts. At the moment, nobody's got more going for him
Abn/Mon-01/Sports/International/Desk/Mustafiz/Fatama
রিপোর্ট শেয়ার করুন »