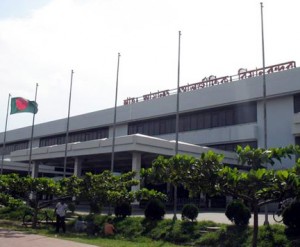 Chittagong, 17 May, Abnews : Operations at Shah Amanat International Airport and Cox's Bazar Airport resumed at 10am today, after 42 hours of its closure due to inclement weather caused by Hurricane Mahasen. All the equipment of the airport was fixed early Friday for regular activities of the airport, Manager of Shah Amanat International Airport Squadron Leader Rabiul Islam told Abnews. He said a private aircraft-Regent Airways landed at the airport at about 10.26am from Dhaka.
On Wednesday the airport authorities suspended all activities following issuance of danger signal number 7 and shifted all the equipment from the airport as the cyclone approached within around 500 kilometres of Bangladesh coastline, said Rabiul.
Authorities of Cox's Bazar airport said they fixed all equipment and started its operation at 10.20am, which was closed from Wednesday afternoon due to inclement weather caused by cyclone Mahasen. Meanwhile, authorities of Chittagong Export Processing Zone (CEPZ) and Karnaphuli Export Processing Zone (KEPZ) resumed its operation in full swing.
Abn/Fri-01/Economics/Desk/MR/Mustafiz/Fatama
রিপোর্ট শেয়ার করুন »