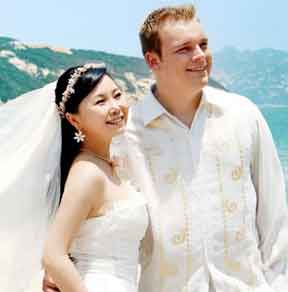 Dhaka, 30 July, Abnews : Thanks to intermediary matchmaking agents, Chinese women who do not speak English are finding it easier to look for Western husbands by overcoming their linguistic handicap. These intermediary agents help such women in their nuptial pursuit, from courting prospective grooms to penning love letters in English to help screen matrimonial candidates. With an aspiration to start a new life in the West, these ladies establish a connection with these foreign men and travel abroad but not all have a fairy tale ending.
In a recent case heard by a Beijing court, a man was convicted of fraud after he provided the aforementioned service to 23 women but failed to find a Western husband for any of them, state run Global Times reported. Matchmaking services for Chinese women and foreign men have existed in China for years, despite long being subject to an official ban. The huge demands for such services and authorities not taking action on agents have allowed them to operate smoothly and largely above board for two decades, it said.
We sign up for accounts for our clients on different international dating sites and chat with foreign men on behalf of our clients, one employee for the agency, Tingting, said. She added that they have access to clients' mailboxes and translate the letters sent and received by the clients. The foreign men have no idea that they are talking to an intermediary agent, instead of the matrimonially-inclined Chinese woman herself, Tingting said.
Most Western men see these sorts of romantic chats as a very private process that should be held just between two people. That is why we pretend to be the clients themselves, she told Global Times. In China, older women have trouble finding spouses, but unlike Chinese men, Western guys don't care so much about a woman's age and whether she's divorced or not, she said.
Abn/Tue-01/Lifestyle/International/Desk/Mustafiz/Fatama
রিপোর্ট শেয়ার করুন »