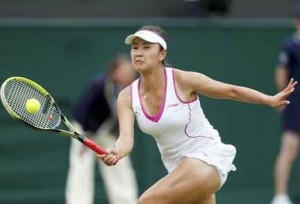 Dhaka, 04 July, Abnews : China's Peng Shuai and Hsieh Su-Wei of Taiwan have forged a tennis doubles partnership that bridges the divide between the two sides, saying sport can take the heat out of the toughest situations. The pairing, who play in the Wimbledon women's doubles semi- finals on Friday, say their partnership is all about firm friendship — and they leave the political stuff to others. Peng and Hsieh, born four days apart in January 1986, have been mates since their junior days and won the first of their five tour titles together back in 2008.
Their closeness has endured and the warmth between the 27 year-olds is obvious, with the pair constantly laughing and joking in each other's company. After a long time playing together, we still have some tough days; sometimes I will not play really good, sometimes her. We have to help each other and we both try together, Peng told media. We have good times and winning tournaments makes us really happy.
Hsieh added: She plays most of the court and I stay by the sidelines! She's working very hard. We enjoy it. If we don't fight there will be no problem!, she joked. Peng said: We speak the same language and we've known each other and been friends since we were young. We have fun and we really enjoy our tennis. I also love going to Taiwan and after Wimbledon she will come to Beijing and if she gets time, I will try to show her some Peking duck!
Taiwan and China have remained technically at war since Taiwan split from the mainland in 1949 at the end of a civil war. The island still styles itself the Republic of China. Beijing considers Taiwan part of its sovereign territory and insists that the two entities must eventually reunite, by force if necessary. However, tensions have eased markedly since Taiwan's President Ma Ying- jeou came to power in 2008.
The past five years have seen dramatic improvements in the cross-strait climate, including the signing of a historic trade agreement and the launch of direct flights between Taiwan and China. Peng and Hsieh do not see the divisions, only what unites them in friendship and sport. We never talk about the country stuff, Hsieh said.
Peng added: I think it's too sensitive, the question of two countries or not. This, for us, we're not working for the government. Between us, it seems so easy: we're good friends, we're tennis players playing together and we will try our best on the court. Never mind about the country or not; we are just friends. It's good that sport can make some tough situations feel simple and easy.
Whether playing together or not, neither of them has ever reached the Wimbledon women's doubles semi-finals before. The eighth seeds hugged as they beat Jelena Jankovic of Serbia and Croatia's Mirjana Lucic-Baroni 6-4, 7-5 on Wednesday on the 4,000-seater sunken Court 2.
They will play Japan's Shuko Aoyama and Chanelle Scheepers of South Africa, an unseeded pairing, in the semi-finals on Friday. For us, the sport, mentally, it's a fight, try your best and challenge ourselves, said Peng. It's really exciting. We're happy that we're in the semi- finals. It's the first time playing together, so it's been a really good tournament so far.
Abn/Thu-01/Sports/International/Desk/Mustafiz/Fatama
রিপোর্ট শেয়ার করুন »