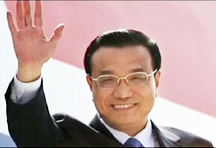 Dhaka, 22 May, Abnews : Chinese Premier Li Keqiang arrives in Pakistan Wednesday for a two-day visit where he will meet prime minister-elect Nawaz Sharif as the long-time allies look to boost trade ties. Sharif's Pakistan Muslim League-N (PML-N) party swept to victory in the May 11 general election on a promise to revitalise Pakistan's struggling economy and help from its giant neighbour to the north will be important to this.
Trade between China and Pakistan hit a 12-month figure of $12 billion for the first time last year, according to Islamabad, up 18 percent on the previous year, and the two sides are committed to raising this to $15 billion in the next two to three years. Li, on his first overseas tour as premier, will hold talks with President Asif Ali Zardari and Pakistan's caretaker prime minister on Wednesday before meeting Sharif on Thursday.
Pakistan's former ambassador to the United States Tariq Fatemi said the visit was crucial in drawing up the economic roadmap for the incoming government. Normally foreign visitors don't go to countries during the interim setups, but China has recognised that the visit to Pakistan is necessary even at this stage and that is why they have organised a separate one-on-one meeting with Nawaz Sharif, Fatemi told media.
The PML-N faces a daunting array of problems: bloody Islamist militancy, sluggish economic growth, high inflation, a crumbling currency, the threat of a balance of payments crisis and crippling electricity shortages. There are an estimated 10,000 Chinese people and more than 120 Chinese companies in Pakistan, many working on infrastructure and energy projects. Beijing built two nuclear power plants there and is contracted to construct two more reactors.
In February Beijing also took control of Pakistan's strategic port of Gwadar, which through an expanded Karakoram Highway could connect China to the Arabian Sea and Strait of Hormuz, a gateway for a third of the world's traded oil. Li arrives in Pakistan after a visit to arch-rivals India, where he promised to open China's vast domestic market wider to India and forge a dynamic trade balance with the south Asian giant.
After Pakistan, Li's tour takes him to Europe, where he will visit Switzerland, with which China is negotiating a free trade agreement, and Germany, its largest European trading partner.
Abn/Wed-01/International/Desk/MR/Mustafiz/Fatama
রিপোর্ট শেয়ার করুন »