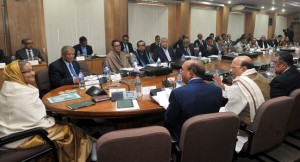 Dhaka, 27 January, Abnews : The cabinet today approved a proposal for ratification of the Maritime Labour Convention, 2006 and the Seafarers Identity Documents Convention (Revised), 2003 to ensure welfare of Bangladeshi seafarers by increasing their facilities. The approval was given at the regular weekly meeting of the cabinet held at Bangladesh Secretariat with Prime Minister Sheikh Hasina in the chair.
After the meeting, Cabinet Secretary M Musharraf Hussain Bhuiyan briefed reporters. He said there are some 12,000 Bangladeshi seafarers who work in local and foreign ships. Bangladesh has 68 oceangoing ships and it earns foreign currencies equivalent to Taka 500 corer annually, he said.
The cabinet secretary said Bangladesh seafarers are currently facing problems like joining in foreign ships and staying abroad, getting shore leave and other discriminations. Besides, he said, the big foreign shipping agents often show reluctant in recruiting Bangladeshi seafarers.
Bhuiyan said 56 countries affiliated with the ILO have so far ratified the Maritime Labour Convention, 2006 till January 23, 2014. He said congenial atmosphere and welfare, housing facilities, working hours and social safety of the seafarers are related with the above convention. The convention is applicable to the concerned sailors as well as the port states and flag states.
In the Seafarers Identity Documents (SID) Convention (Revised), 2003, there will be basic information of the seafarers through biometric features including finger print, bar code, photograph and machine readable zone. If a sailor has SID, it would be easier for him or her to get seashore leave, changing his job to other ships and returning his or her own country. As many as 24 ILO affiliated countries have so far ratified the SID Convention, the cabinet secretary said.
The convention would not be conflicting with the existing labour laws as the foreign and shipping ministries have examined it. Besides, the tripartite consultative council in the labour sector has recommended ratification of the SID Convention. Terming the ratification of both conventions as a good initiative for ensuring welfare of the 12,000 Bangladeshi sailors, he said Bangladesh would also gain benefit from these instruments.
The cabinet was also apprised of the participation of a Bangladesh delegation in the Commonwealth Summit held in Colombo on November 15-17 last year. Ministers and state ministers concerned attended the meeting, while concerned secretaries were present.
Abn/Mon-01/National/Desk/MR/Mustafiz/Fatama
রিপোর্ট শেয়ার করুন »