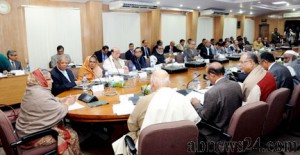 Dhaka, 03 February, Abnews : The cabinet has asked the Primary and Mass Education Ministry to resubmit the draft of the Non-formal Education Act, 2014 incorporating the proposals of the cabinet members. The cabinet gave the directives as the Ministry of Primary and Mass Education placed the draft in the weekly cabinet meeting with Prime Minister Sheikh Hasina in the chair.
The cabinet gave nod in principle to the draft in May last year. Today it was placed before the cabinet for final approval aimed at bringing the existing non-formal education of the country under a legal framework. Briefing reporters after the meeting Cabinet Secretary M Musharraf Hossain Bhuiyan said, the cabinet asked the ministry to change the draft in accordance with the observations of the cabinet.
The cabinet secretary said the priority of the government is to ensure education for every citizen as a huge number of children remain out of the formal education due to dropouts and other reasons. He said, the government is providing education to those who are deprived of formal education due to dropouts or older persons of the country who could not get formal education within their age of 14 provided under non-formal education directorate.
Although the government is implementing massive programme for the non-formal education and there has been huge achievement in this sector, but there is no law for the purpose at present, he added. Musharraf Hassain said, under the proposed law a non-formal education board for the management in the informal education sector will be constituted.
In today's cabinet meeting, the commerce ministry placed a report on the participation of Bangladesh delegation in the 9th Ministerial Meeting of the World Trade Organization held at Bali, Indonesian in December last year.
Abn/Mon-02/National/Desk/MR/Mustafiz/Fatama
রিপোর্ট শেয়ার করুন »