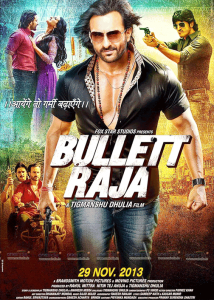 Dhaka, 04 December, Abnews : Saif Ali Khan, Sonakshi Sinha, Jimmy Shergill, Raj Babbar, Ravi Kishen, Vidyut Jamwal, Gulshan Grover, Chunky Pandey. Director- Tigmanshu Dhulia, IE Rating:
From a man who knows a thing or two about Uttar Pradesh politics comes a pocket book update rapid Bollywood style – emphasise the castes of the players in question, exaggerate the jails from within which the mafia runs operations, feature a leader who builds statues, gloss over the encounters, and even throw in a line about the Maharashtrians who are settled peacefully in Benares. But just a line, mind it. Lest it all get too heavy. For 'Bullett Raja', the extra 't' for emphasis, is a potboiler with little pretensions to realism but much too close a connection with Dhulia to entirely jettison it too.
This is not Dhulia trying to make commercial cinema aesthically better, as he has been emphasising. This is the celebrated director and now a fancied actor – since he made a mark in a film with an entirely new perspective on bloody, Hindi heartland violence and its politics and caste associations – completely surrendering himself to it.
It's sad that he makes a mockery of all that he knows better here. It's sad that for a completely unnecessary item number he casts a Mahie Gill who dared do a bold role and is paying the price for it. It's sad that the song enters 5 minutes into the film. It's sad that his heroes, a really ordinary Khan and a slightly better Shergill, are forced to emphasise their castes every other minute. It's sad that Lucknow's really politically astute youths apparently know no better than to adopt the confused Raja (Saif Ali Khan) as their hero. And it's sad that Vidyut Jamwal has to make an entry as a 'Dabangg' hero with an equally unbuttoned shirt and apparently as little an idea of what he is getting into to take Raja on. And then there is Sonakshi Sinha, totally unnecessary but for a song and some smattering of Bengali to give it a variation. And she is an aspiring actress based in Mumbai who is somehow being taken advantage of in a Lucknow hotel by a businessman, who emphasises his Marwari lineage.
Abn/Wed-01/Entertainment/International/Desk/MR/Mustafiz/Fatama
রিপোর্ট শেয়ার করুন »