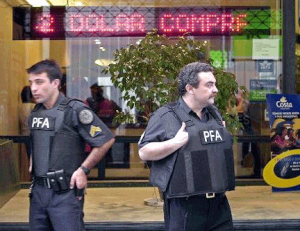 Dhaka, 04 December, Abnews : A hefty new surcharge will make it more expensive for Argentines to exchange money for dollars when they go overseas, a new control measure aimed at battling capital flight. On Tuesday, the official exchange rate was 6.1 pesos to a dollar, but for Argentines headed out of the country, that rate jumped to 8.3 pesos for a dollar, according to an official bulletin.
Argentines making purchases with credit cards outside the country will also be hit with a 35 percent tax, up from 20 percent previously. There is currency flight happening under the guise of tourist operations. We need to be careful in the administration of reserves, chief cabinet minister Jorge Capitanich said yesterday.
The surcharge on overseas purchases can be refunded by the tax agency as part of an income tax return, but, since many people choose not to declare their purchases to tax authorities, in reality few people are likely to recover this money.
Starting in 2011, Argentina put strict currency controls in place, after noting a sharp decrease in its international reserves. The country has gone from a high of $52 billion in reserves in 2010, down to just $32 billion today. A black market currency exchange has emerged, with dollars available for a little over nine pesos. That's down from 10 a few weeks ago, as the difference between the official dollar exchange rate and the black market one shrinks.
Countries in the region that have benefited from large numbers of travelers from Argentina include Uruguay, where travel officials said they were upbeat about continued robust tourism from their neighbor to the west. I don't think it(the currency exchange surcharge) is a positive development, said Benjamin Liberoff, director of Uruguay's national tourism office.
Luckily, there are many tourists who have confirmed their reservations, who have booked their travel, and we're confident that after years of being faithful visitors here… they they'll continue to travel to Argentina, Liberoff said.
Abn/Wed-01/Share Market/International/Desk/MR/Mustafiz/Fatama
রিপোর্ট শেয়ার করুন »