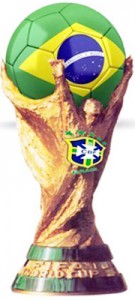 Dhaka, 20 June, Abnews : Brazilians left behind by a vaunted economic boom have come to see next year's World Cup not as a celebration of the country's rising stature, but as a symbol of its lingering inequality. Their anger has fueled the country's biggest protests in 20 years, casting a pall over the Confederations Cup, a dress rehearsal for next year's football extravaganza, the first World Cup in football-mad Brazil since 1950.
In my opinion, these people don't get anything from these tournaments. They don't have a voice, so they don't get heard, said Marcio, a tour guide in his 20s from the historic town of Olinda. The UNESCO heritage jewel lies 18 kilometers (11 miles) outside the northeastern city of Recife, which on Wednesday hosted Japan and three-time world champions Italy.
Until Wednesday, Recife had been spared the social unrest that has increasingly engulfed other venues, starting with the capital, Brasilia, scene of Saturday's tournament opener between the Brazilians and the Japanese.
The protests were triggered by hikes in public transit fares but have grown into a massive show of anger at the government's lavishing of funds on international sporting events and perceived neglect of health and education. Marcio said the authorities should have seen the problem coming.
The pace of modernization is slow here, and while of course we love football, many people can be forgiven for saying, when they see the new stadiums and the swanky hotels: 'What's in it for me?' he explained. The answer, it appears, is not much, particularly in places like Varadouro, a shantytown on the outskirts of Olinda.
Barely three kilometers away from central Olinda's stately Portuguese colonial architecture lies another world far from the sprawling stadiums, one where football offers only a brief respite from grinding poverty. My name is Gleberson, I'm eight years old and my favorite player is Neymar, volunteered a small boy, one of a 20-strong group that quickly materialized in Varadouro's potholed, muddy streets.
His mother laughed as Gleberson and his friends – some barely two years old, chased their older peers after a long search for a ball and two makeshift nets proved successful. The older boys immediately showed off impressive barefoot skills before one stray shot on goal landed in a stinking canal.
Quick as a flash, Gleberson vaulted the wall and gingerly stepped into the water to retrieve the ball so the match could continue in the baking hot sunshine. You won't see any evidence of the Confederations Cup around here, grunted Jaelton, 21, as he dismounted an ancient bicycle.
The new multimillion-dollar stadium 19 kilometers to the north of Recife, an island seemingly in the middle of nowhere, is set to become the heart of a new mini-town. But that is a long bike ride for Jaelton, and Varadouro cars are, to put it politely, not entirely roadworthy. Once again, the conversation turned back to the transport protests and away from the beautiful game – the joga bonito – the public face of a country in turmoil.
Abn/Thu-01/Sports/International/Desk/MR/Mustafiz/Fatama
রিপোর্ট শেয়ার করুন »