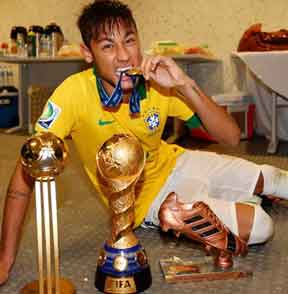 Dhaka, 01 July, Abnews : The FIFA Confederations Cup Brazil 2013 may have lasted for just 15 days, but for Neymar it probably seems like a whole lot longer, the Seleção ace putting the tension and uncertainty of the build-up firmly behind him to turn everything he touched into gold. It was only a few short weeks ago that booing Neymar and questioning his talent seemed to be a national pastime. It all started when the fans at Santos, the team he had played for all his life and with whom he won three Campeonato Paulista titles, a Copa do Brasil and a Copa Libertadores, began criticising his performances as part of a side that had lost its way. Even on his final appearance for the club, at the Estadio Nacional Mane Garrincha in Brasilia, there were harsh words from the stands for the young star.
The 21-year-old then announced his move to Barcelona before joining up with the national team, where he was booed and jeered at in Brazil's final warm-up match for the FIFA Confederations Cup, a 3-0 defeat of France. All of sudden his earlier achievements seemed to count for nothing. The general feeling was that he was overrated and still had an awful lot to prove, especially in the famous canary-yellow jersey. Yet that all changed when the tournament got underway, with Neymar showing his ability to deliver on the big occasion, just one of many plus points that Brazil and their fans can take away with them from the competition.
From the stunning strike two minutes into the opening game against Japan – a match played at the same stadium where he had been booed on his Santos farewell just days earlier – to the left-footed thunderbolt against Spain and superb individual performance that sealed the adidas Golden Ball for him, Neymar could not have played a more decisive role. Having started the tournament under fire, he ended it with the adulation of the fans ringing in his ears.
As he explained in an exclusive interview with FIFA.com after Brazil's 3-0 win at the Maracana, it is a turnaround he has not yet been able to take stock of, preferring instead to play down all talk concerning his huge individual contribution to his side's success.
Abn/Mon-01/Sports/International/Desk/Mustafiz/Fatama
রিপোর্ট শেয়ার করুন »