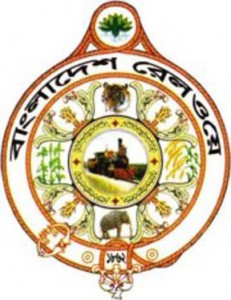 Dhaka, 13 August, Abnews : The West Zone of Bangladesh Railway has earned revenue worth around Taka 265.94 crore in the just concluded 2012-13 fiscal, up by Taka 69.94 crore over the previous 2011-12 fiscal. Of the total earning, Taka 168.85 crore were obtained by carrying passengers while Taka 44.74 crore from the goods transportation.
Mihir Kanti Guha, Chief Commercial Manager of the zone, told BSS here that the revenue earning is gradually being increased despite of multifarious problems being faced by the railway sector. The zone, covering Rajshahi, Rangpur and Khulna divisions, has been operating 129 trains including 42 intercity ones on different routes including the capital Dhaka at present.
He stated that the number of passengers on various routes where the intercity trains plying especially those connecting the capital Dhaka has been increased significantly in the last couple of years. In most of the cases, he said the railway staffs are facing a great trouble to manage the enhanced and overcrowded passengers.
For the betterment of the passengers in general he said 30 major stations have been brought under the modern computerized seat reservation and ticketing system. Some of those including Rajshahi have launched ticket selling, seat reservation and other requisite privileges through online system.
He, however, said the revenue earning could be enhanced to a greater extent if the huge numbers of non-functional stations are re-launched as early as possible.
Saiful Islam, Chief Operating Superintendent of the zone, says 70 stations remained inoperative for long due to various problems including shortage of stationmaster, points man, shunting man, booking clerk and other necessary staffs.
He apprehended that 30 more stations might be shuttered down either partially or completely when the service of 30 station masters will end by next December.
Earlier, six more other mail trains and 25 local trains were being operated on different routes of the zone but now those were curtailed due to various problems including shortage of lineman, engine, rake and loco master.
He emphasized the need for taking effective step to restart the trains and stations as early as possible for the sake of reflecting the hopes and aspirations of the general public as many people still depend on railway journey.
On the other hand, works on around eight railway projects are being progressed on different routes of the zone involving around Taka 3000 crore at present aiming at bringing dynamism in the railway transportation, said Rafiqul Islam, Chief Engineer of the zone.
On successful implementation of the projects by this yearend, he said significant developments are expected in the railway sector including its revenue earning.
Meanwhile, Abu Bakker Ali, President of Rajshahi Chamber of Commerce and Industry, called for solving the existing problems of the railway sector as early as possible for the sake of benefit of the passengers coupled with boosting revenue earning.
Abn/Mon-01/Economics/Desk/MR/Mustafiz/Fatama
রিপোর্ট শেয়ার করুন »