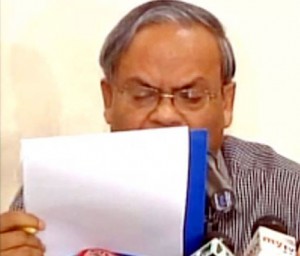 Dhaka, 23 November, Abnews : Opposition BNP  warned that the government will not be allowed to hold any unilateral election ignoring the mass people's demand. The government is conspiring to hold a one-sided election defying the mass people's demand for arranging it under a non-party administration. We'll in no way allow it to hold such farcical polls," said BNP joint secretary general Ruhul Kabir Rizvi.
He termed the present reconstituted cabinet unlawful and said people will resist with their all strength those who will partake in the election under it. The Prime Minister won't be able to hold a stage-managed election showing the thumb to the whole world. Rizvi also threatened that the opposition will cripple the country from the moment the election scheduled will be declared.
Rizvi said leaders and activists of the 18-party alliance are preparing for paralysing the country following the announcement of the BNP acting secretary general. The government must shoulder the consequences for its recklessness.
The BNP leader alleged that the law enforcers are harassing the opposition leaders by raiding their houses and business institutions. The government turned the whole country into a police state. Those raising voice against the current regime are sent to jail.
The government is not allowing the opposition to exercise their democratic rights, he said, adding that it will not be able to suppress their ongoing movement. Stop repression and oppression on the opposition. Or else, you must face a terrible consequence, he added.
Abn/Sat-02/Politics/Md. Nazmul Houda/Mustafiz/Fatama
রিপোর্ট শেয়ার করুন »