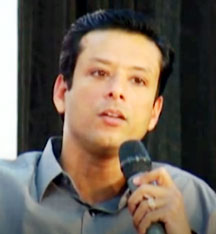 Dhaka, 24 December, Abnews : Sajeeb Wazed Joy, son of Prime Minister Sheikh Hasina, expressed satisfaction over the preparations of the government and the Election Commission for the upcoming national elections. 'It is a constitutional obligation to hold the election in time. I will be happy if a credible and acceptable election is held in the country,' he said. Pointing to BNP's poll boycott, Joy said, 'Why we will lose point if any party boycotts game fearing debacle?'
The premier's son came up with the remarks while talking to journalists at Hazrat Shahjalal International Airport on his return from the United States on Monday night. Joy criticised the main opposition for its mysterious silence about the resolution passed in the Pakistan National Assembly that condemned the execution of war crimes convict Abdul Quader Mollah.
'None of the opposition leaders gave statement about the resolution. It's very shameful because it's not a matter of politics. It's a matter of our independence. Politicians cannot remain silent about it,' he added. Joy alleged that BNP is not participating in the polls because Jamaat cannot join it. 'We had held discussions with the opposition many days and also offered them various opportunities. But they are not participating in the polls as Jamaat cannot join it,' he said.
The PM's son claimed that the polls will be free and fair, though the BNP is boycotting it in a bid to save war criminals. In reply to a query, he said, 'The United States, European Union and the Commonwealth said that they will not send election observers if opposition skips it. But they never said that the polls will not be neutral.'
Abn/Tue-02/Politics/Desk/Nazmul Houda/Mustafiz/Fatama
রিপোর্ট শেয়ার করুন »