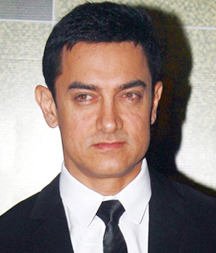 Dhaka, 01 June, Abnews : Our very own Aamir Khan is indeed going places. The perfectionist star is growing popular with time and people overseas are also smitten by his charm. The latest foreign personality to have been left awestruck by Aamir is Bill Gates. The Microsoft chairman took to his blog to express his desire to meet the Bollywood superstar.
Gates wrote, I'm also looking forward to meeting Aamir Khan, the Bollywood star and activist. I want to hear about his work as a UNICEF ambassador for child nutrition. I also want to hear about his TV show, Satyamev Jayate (Truth Alone Prevails), which is shining a light on some critical issues facing India. And maybe, if I'm lucky, he'll show me a few dance moves.
Aamir Khan's debut TV show 'Satyamev Jayate' which was launched last year marked the emergence of Aamir Khan as a social activist. The actor raised a number of social issues- female foeticide, Dowry, child sex abuse etc. The actor's show inspired a number of people and also forced politicians to take a note of the issues highlighted by him. Great going Aamir Khan!
Abn/Sat-01/Entertainment/International/Desk/Mustafiz/Fatama
রিপোর্ট শেয়ার করুন »