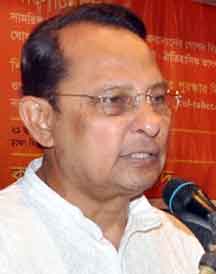 Dhaka, 25 July, Abnews : Information Minister Hasanul Haq Inu today called upon the deputy commissioners to be transparent as both the elected and non- elected functionaries of the government are under strict scrutiny of the strong media that is freely performing in the country. Quoting from ancient philosopher cum diplomat, Chanakya who said 2300 years ago that as fishes travel in water and as such cannot be said when they drink water and similarly the government functionaries cannot be thought of misappropriating power and resources. But in this age of media explosion it is seemed to be completely obsolete as they are under media surveillance. You are under target of most sophisticated media technology which is monitoring your all activities round the clock, he said adding that the nation deserves total transparency and accountability from the government functionaries, especially from the bureaucrats.
The minister was speaking as the chief guest at the morning session of the Deputy Commissioner's conference on the third – day today at the cabinet conference room at Bangladesh Secretariat. The session was also addressed, among others, by State Minister for Youths and Sports Ahad Ali Sarker, Cabinet Secretary Mohammad Mosharraf Hossain Bhuyian, Information Secretary Murtaza Ahmed and Cultural Secretary Dr. Ranajit Kumar Biswas. At the outset of the session, deputy commissioners raised some questions relating to various problems and development initiatives of their respective districts.
Elaborating the nation's long experiences under the rule of military fascism and extremism, Hasanul Haq Inu said that they presented the nation one type of hotchpotch rule that was an admixture of communalism, fascism and democracy. We are now engaged in a new war for establishing democratic rule in its true perspective, he said adding that militocracy and democracy cannot go together. Assuring the DCs that the activities of the civil servants would be evaluated on the basis of their performances and success, the minister said that in administration merit wisdom would prevail over any political or other considerations. We will run the state system on totally merit-basis, he assured.
Responding to a question, Inu said the press would enjoy unfettered freedom. But they must not propagate falsehoods or scandalous news, he added. Ahad Ali Sarker called upon the DCs to make their best endeavors for the promotion of sports and cultures in their respective areas. He informed the meeting that programmes have taken to develop modern stadium and sport complex in 34 districts of the country. Sports complexes, swimming pools and gymnasiums are likely to be added with such modern stadium complexes, he assured the DCs that sports officers would be appointed to those districts where this post is now fallen vacant.
Information Secretary Murtaza Ahmed said that the government is heading to enunciating a national policy for on-line newspapers. A 17 member national committee and a 6-member technical committee have already set up which are working to formulate this on-line newspaper policy, he added.
Dr. Ranajit Biswas said that steps would be taken to renovatethe century old buildings having archaeological importance in various parts of the country. In this connection he specially referred to four century old Portuguese structure in Chittagong that would be preserved after proper renovation as a historical building. He also said that modern Shilpakala Academy would be set up in various districts where it is still lacking.
Abn/Thu-01/Media/Desk/MR/Mustafiz/Fatama
রিপোর্ট শেয়ার করুন »