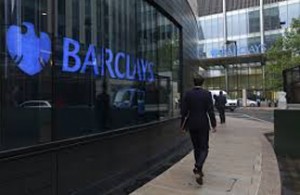 Dhaka, 24 April, Abnews:British bank Barclays, seeking to fix its battered reputation caused by last year's Libor rate-rigging scandal, said on Wednesday that it returned to profit in the first quarter with net earnings of £839 million ($1.28 billion, 983 million euros) after a loss in the first three months of 2012.
Barclays recorded a profit after tax following a net loss of £598 million in the first quarter of last year, the bank said in an earnings statement. 'While there remains much to do to build a stronger and more resilient Barclays, we are completely focused on executing our Transform programme and are making good early progress,' Barclays chief executive Antony Jenkins said in the statement. The bank's profit was skewed by changes in the value of Barclays' debt and owing to an absence of the provisions seen a year earlier to compensate clients mis-sold insurance. Adjusted profit before tax was down a quarter to £1.79 billion, hit in part by restructuring costs totalling £514 million as part of Jenkins' Transform programme, Barclays said. The bank last week announced a fresh shake-up of its senior staff, including the departure of its head of investment banking, in the wake of last year's Libor rate-rigging scandal. Rich Ricci, the head of its investment banking unit, and Tom Kalaris, who runs its wealth-management arm and US business, are to retire in June. Barclays was plunged into crisis in June 2012, when it was fined £290 million by British and US regulators for attempted manipulation of Libor and Euribor interbank rates between 2005 and 2009. The scandal sparked the resignations of three Barclays senior board members, including Bob Diamond as chief executive. He was replaced by Jenkins, who was formerly head of retail and business banking. Ricci was the most senior banker remaining from Diamond's time in charge. Under their watch, the Libor system was found to have been open to abuse, with some traders lying about borrowing costs to boost trading positions or make the bank seem more secure. Barclays has already said that it plans to axe at least 3,700 jobs this year after plunging into the red in 2012. The bank employs about 140,000 staff worldwide. As part of the restructuring, Jenkins is also shutting Barclay's controversial Structured Capital Markets division, which gained notoriety for its advice to multinational companies on reducing their tax bills.
The group has also stopped trading soft commodities — such as agricultural products — for speculative purposes after concluding that it was not compatible with the bank's aims.
Abn/Wed-02/Bank-Insurance/Desk/Mustafiz/Majumder/Ripa
রিপোর্ট শেয়ার করুন »