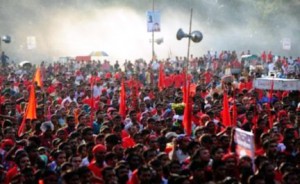 Dhaka, 20 November, Abnews : Bangladesh must introduce sweeping reforms in its garment industry to maintain economic growth, the International Labour Organization says. The UN body says safer working conditions and fairer wages are vital. The report comes after a series of disasters in garment factories, including the deaths of more than 1,130 people when a plant collapsed in Dhaka. The garment sector is key to Bangladesh's economy and accounts for nearly 5% of global apparel exports.
This makes Bangladesh one of the leading ready-made garments exporter, second only to China. 'Best investment' The ILO report says that "unless a comprehensive set of labour market and social policies are introduced, Bangladesh will be unable to maintain its economic momentum and improve living standards in a sustainable way.
It points out that Bangladeshi garment workers earn less than their colleagues in Cambodia, Vietnam, India or Pakistan, and that the minimum wage has been adjusted only three times in almost 30 years. The reforms would be the best investment Bangladesh could make because they would help to safeguard exports and support job creation, the ILO says.
Earlier this month, Bangladesh's wage board proposed raising the minimum salary for garment industry workers by 77% to 5,300 takas  a month. However, the proposed increase was less than unions had demanded. Garment workers have held various strikes in recent weeks demanding higher wages and safer working conditions.
According to some estimates, the sector is worth $22bn  in Bangladesh, accounting for nearly 80% the country's exports. However, safety standards in Bangladesh's garment factories are very substandard. The problem was highlighted in April after the collapse of Dhaka's Rana Plaza factory. The incident sparked global concerns prompting calls for better conditions and higher wages. But factory owners have argued that while they willing to hike wages, a sharp increase would damage their competitiveness.
Abn/Wed-02/Economics/Md. Nazmul Houda/Mustafiz/Fatama
রিপোর্ট শেয়ার করুন »