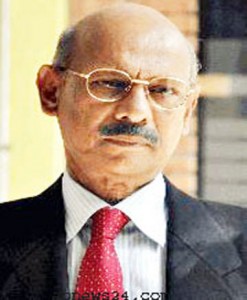 Dhaka, 03 February, Abnews : Prime Minister's Press Secretary Abul Kalam Azad has been made Managing Director and Chief Editor of Bangladesh Sangbad Sangstha (BSS), the national news agency of the country. Azad has been appointed for three years on a contractual basis with the status of a secretary, a circular of the Ministry of Public Administration said today.
Journalist Azad worked as the PM's Press Secretary till January 27, 2014 from 2009. Earlier, he was the Press Minister at Bangladesh Embassy in Washington. Before becoming the Press Secretary of the Prime Minister, Azad performed responsibility as the Press Secretary of Awami League President and Leader of the Opposition in Parliament after returning from Washington in 2002.
In academic life, Azad was a member of Central Executive Committee of Bangladesh Chhatra League (BCL). He was also Dhaka Divisional Treasurer of all-party Chhatra Sangram Parishad during the mass upsurge in 1969.
Azad started his career as a journalist with the Dainik Ittefaq in 1973. He was President of Bangladesh Federal Union of Journalists (BFUJ) and Secretary of Dhaka Union of Journalists (DUJ). Azad was also a member of the Fifth Wage Board for Journalists and Workers.
Besides being a member of Syndicate and Senate of Dhaka University, Azad was member of Syndicate of Bangabandhu Sheikh Mujib Medical University, board of directors of Press Institute of Bangladesh (PIB) and Press Council. He is also associated with many social and cultural organizations. Azad is a member of National Committee of Bangabandhu Parishad and President of Munshiganj District unit.
Abn/Mon-02/Media/Desk/MR/Mustafiz/Fatama
রিপোর্ট শেয়ার করুন »