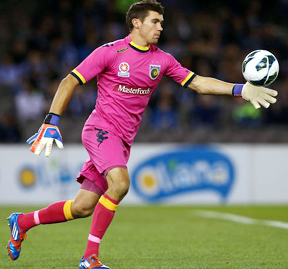 Dhaka, 31 May, Abnews : Mathew Ryan, one of Australia's outstanding young goalkeepers, has signed a three-year deal with Belgium's Club Brugge, his Central Coast A-League club said on Friday. Ryan, 21, who has played once for the Australian national team and four times for the national under 23s, went to Europe this week for medical tests ahead of his signing, the Mariners said.
Ryan becomes the third summer signing for Club Brugge, with the Belgians' sporting director Arnar Gretarsson describing the two-time A-League Young Football of the Year as a goalkeeper with huge potential. He (Ryan) has been playing three years for the Australian top team Central Coast Mariners, Gretarsson said in a statement.
Despite his young age he has gathered a lot of experience and he has been elected twice as best goalkeeper of Australia. The Mariners said they had negotiated a sizeable transfer fee for Ryan, who was due to come off contract this weekend and the deal includes a sell-on clause.
Ryan follows former Australian internationals Frank Farina and Paul Okon, who enjoyed stints with the 13-time Belgian champions.
Abn/Fri-02/Sports/International/Desk/Mustafiz/Fatama
রিপোর্ট শেয়ার করুন »