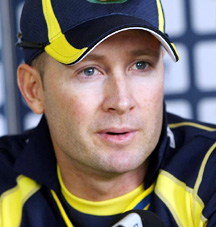 Dhaka, 08 July, Abnews : Since celebrating his test debut with a dazzling century, Michael Clarke has combined the brash self-confidence of his native Sydney with a purity of style allied to fluent footwork in the finest Australian tradition.  Last year the Australia captain added a Bradmanesque appetite for Test runs, accumulating 1,595 at an average of exactly 106, including three double centuries and a triple. He was selected as the leading international cricketer for 2012 by the Wisden almanack.
Clarke's blend of elegance and acquisition led former Australian off-spinner Ashley Mallett to suggest that the right-hander was now an amalgam of Victor Trumper and Don Bradman, who also forged their reputations in Sydney. "He possesses the majesty of Trumper…and much of the efficiency of Bradman, who collected runs like a frequent flyer clocks miles," enthused Mallett.
A modern and more relevant parallel could be drawn with Allan Border, another Sydneysider who was the initially reluctant captain of a side who lost series against West Indies, England, Pakistan and New Zealand. Like Clarke, Border stood figuratively head-and-shoulders above his team mates as a batsman; tough, pragmatic and at his best in the perennial crises afflicting his team.
In tandem with coach Bobby Simpson, Border instilled his own gritty work ethic into an under-performing side, weeded out the players he did not want and backed those he thought possessed the right stuff. Australia won the World Cup in India in 1987 and two years later Border's men defeated England 4-0 in a six-match series. England did not regain the Ashes until 2005.
UNPROMISING BUILDUP
Can Clarke emulate Border? After losing three Ashes series out of the last four, Australia's run-up to Wednesday's first Test at Trent Bridge could hardly have been less promising.
Abn/Mon-01/Sports/International/Desk/Mustafiz/Fatama
রিপোর্ট শেয়ার করুন »