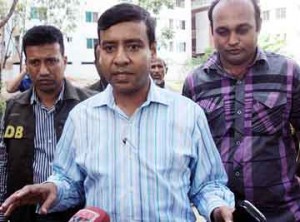 Dhaka, 24 July, Abnews :A Dhaka court here on Wednesday issued a warrant for the arrest of ruling party MP Golam Maula Rony cancelling his bail granted earlier in a case filed for assaulting two journalists. Dhaka Metropolitan Magistrate Shahriar Mahmud Adnan passed the order when police submitted an investigation report against Rony. On Monday, complainant Yunus Ali, an Independent TV official, filed the petition with the court seeking cancellation of Rony's bail.
Yunus alleged that he received death threat over his cellphone from an unknown caller on July 21, the day Rony obtained the interim bail. Later, Yunus lodged a complaint with Shahbagh Police Station stating that Rony and his men have been issuing threats to withdraw the case after the accused secured bail. Accepting the petition, the magistrate ordered police to submit a report within 24 hours to the court after investigating the allegation of threat.
Rony along with his supporters on Sunday reportedly assaulted Independent TV reporter Imtiaz Momin Sony and cameraman Mohsin Mukul Bakul when they went to Rony's office on the 9th floor of 'Meherba Plaza' at Topkhana Road in the city to verify some allegations against the MP.
Abn/Wed-01/Media/Desk/MR/Mustafiz/Fatama
রিপোর্ট শেয়ার করুন »