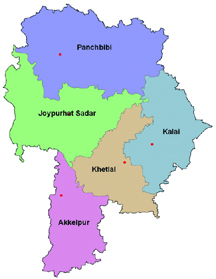 Dhaka, 18 December, Abnews : A woman injured during a clash between police and Jamaat activists at Joypurhat has died. Asma Begum, 43, died at Shahid Ziaur Rahman Medical College Hospital in Bogra on Wednesday early morning, said Joypurhat Police Station OC Abdur Rashid.
Asma was caught in crossfire during the clash on Sunday when she was returning home on a van from the market. Five people have so far died in the violence in Joypurhat's Puranapoil area in the wake of violence after the hanging of Jamaat-e-Islami leader Abdul Quader Molla. Those who died earlier were Jamaat activists Abdur Rahman, Shamim Hossain and Insan Ali and van driver Firoz.
Jamaat activists carried out attacks on different government offices and lobbed five firebombs at Rajshahi Krishi Unnayan Bank in Puranapoil area on Sunday. As police tried to stop them the Jamaat activists hurled handmade bombs and provoked a clash. Local administration had imposed a ban on gatherings from 5pm on Sunday to 6am on Monday.
Abn/Wed-01/National/Desk/Nazmul Houda/Mustafiz/Fatama
রিপোর্ট শেয়ার করুন »